Draught Quality Audit
An Audit You'll Want
---
There is no certification, college diploma, or apprenticeship to become a draught service technician.
Basically, no two systems are installed the same way. Installers have their own beliefs on what is "the best way".
Line cleaners sometimes cut corners.
You don't have the time to monitor draught temperatures, date codes on kegs, proper rotation, glass washer cleanliness, beer glass cleanliness,….
You can barely keep your head above water without closely monitoring your draught system.
Then this happens…
We developed the industry's only brewery-neutral Draught Quality Audit. Using brewing industry standards as a base, we added in extra criteria to help you sell better quality beer than your competitor. We check over 20 items on each line to make sure your system is clean and efficient. We have done thousands of audits on draught systems over the years.
Since we built the software, we made it customizable so you can add in extra criteria; for example – if we should check to see if the walk-in beer fridge has a lock on it or if the tap handles are straight.
We provide detailed solutions on how to fix any issues and also give praise for the things you are doing well.
Audits are competed on a iPad/tablet so you'll get the results in real time via email and on your dashboard on the secure, password protected section of our site.
We provide them a la carte or as a subscription service where you'll receive ongoing, either monthly, quarterly, or a bi-annual basis.
We don't clean lines or sell equipment, so there is no conflict of interest; we're not going to tell you that you need something when you don't. Our clients call us their trusted advisers for draught.
The average first score is a 61. What will yours be?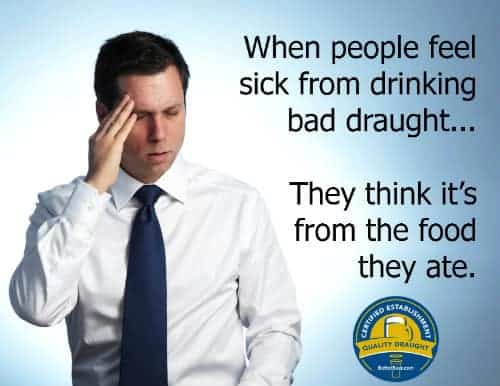 We have done
Draught Quality Audits since 2010
Average First Audit Score
Average Third Audit Score
Average Sixth Audit Score
One time Deep Dive audits are $595 for up to 30 lines, $695 for more than 30 lines.
For customized programs, please reach out.
Toll Free (888) 811 - 2337 | hello@BetterBeer.com
Book in a 20 minute demo at a time that is convenient for you or fill out the form and we'll get back to you asap.
Or click here to have us call you right now.