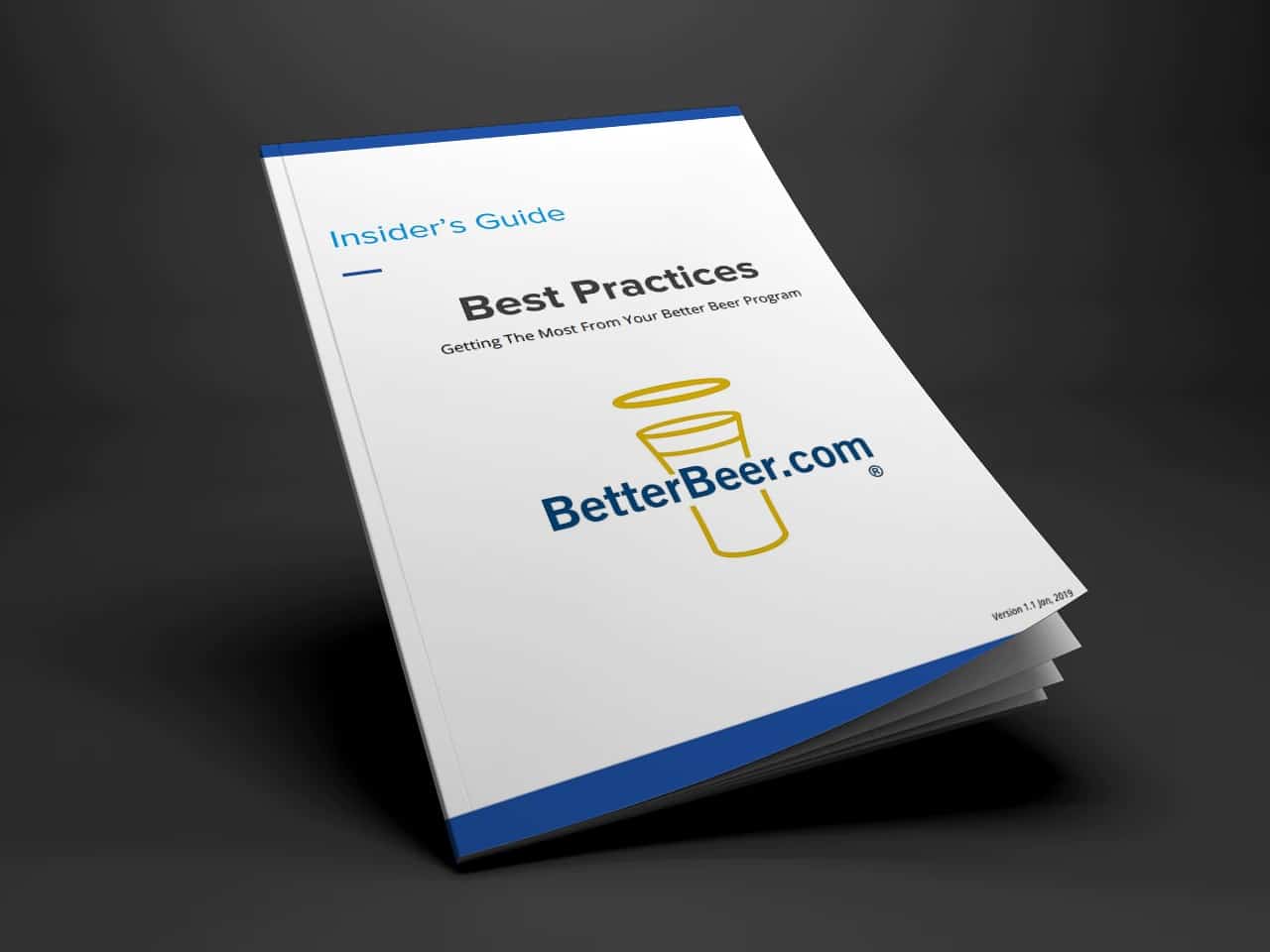 Getting The Most From Better Beer
In order to ensure that you get the most from our program, we have outlined the best practices that others have used to achieve optimum success.

What? An online course that has 62 min of videos in 13 lessons and covers:
how the system works

changing kegs

FOBs

beer clean glasses

proper pour

selling beer

proper service

basic troubleshooting.
Who?: Best for anyone who sells or serves draught beer.
What? An online course that has 55 min of videos in 10 lessons and is level two of Serve Better Beer can only be taken after the "Serve Better Beer" and covers:
More technical coverage of the system

advanced troubleshooting

line cleaning

beer gas systems

best practices and more
Who?: Best for any Keyholder / Supervisor / Manager. Should be taken after Serve Better Beer Course.
What? An online course that has 26 min of videos in 7 lessons that covers the basics of beer. Perfect for someone who is new to beer and looking to gain some confidence in beer knowledge for serving and bartending.
Brewing process

Beer styles

Ingredients

beer & food pairing basics
Who?: Best for anyone who needs basic beer education. Should be taken after Serve Better Beer Course.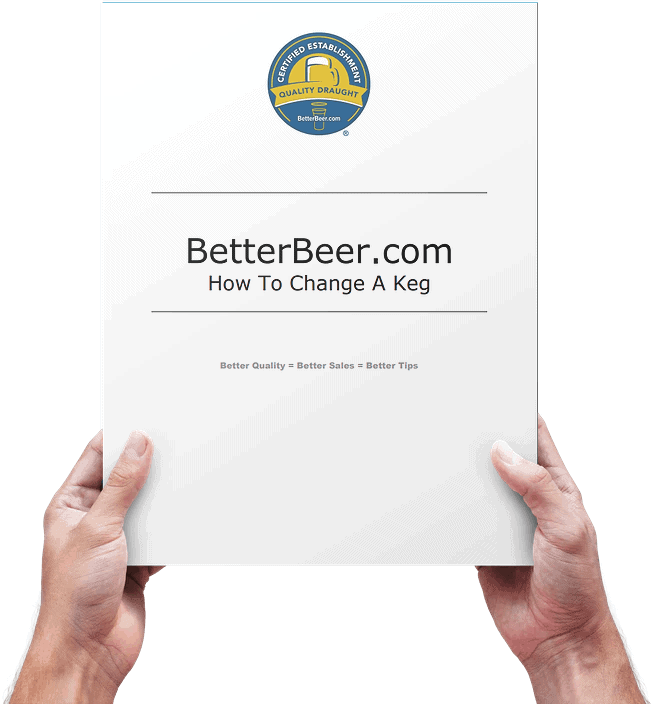 What? 5 page manual with graphics on how to change a keg. Used with FOB instruction sheet.
Who?: Best for Bussers or Barbacks who do not pour or serve beer, just change kegs.
* Manual available in English, French, Tamil, Mandarin, and Cantonese.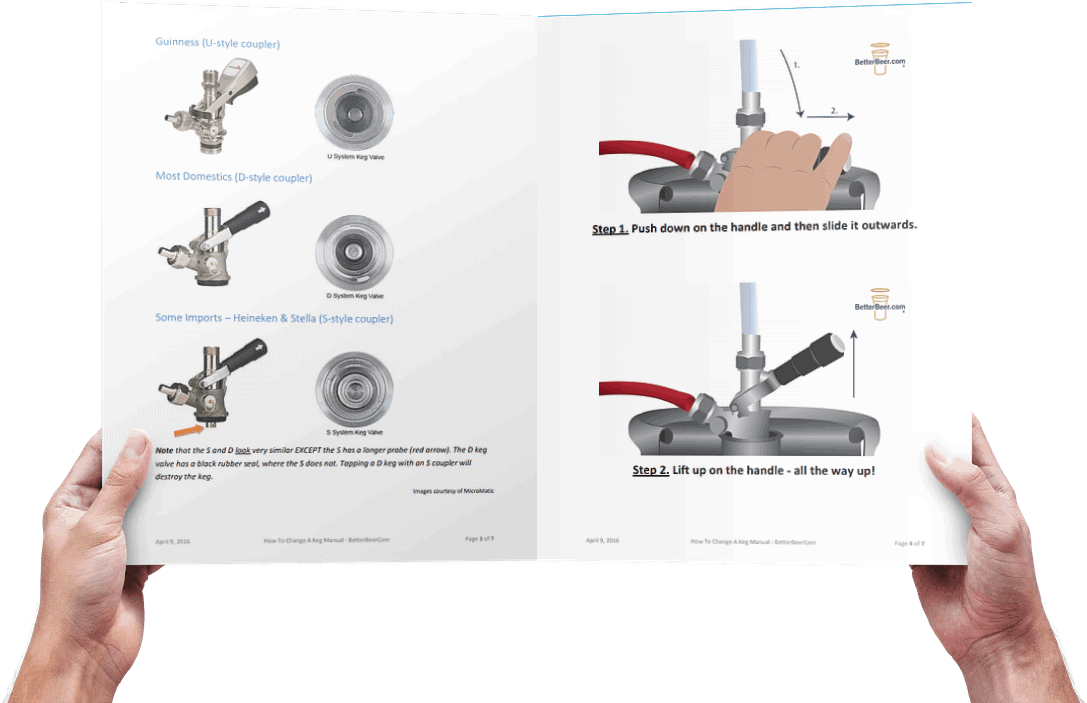 Post the correct FOB Instruction sheet inside the walk-in somewhere visible - either on the wall or the inside of the door.
PRO TIP - staple one to each employee's pay stub or post in the staff room / change / locker room.
Ensure that there are sheets on the line cleaning log so that the cleaners can record line cleaning.
Better Beer Waterbottle
Ensure that the water bottle remains in the walk-in on a shelf.
Used weekly to ensure beer clean glasses. To be used on all beer glasses: flights, pints, mugs, jars, … Do not use for any glass that has not first been cleaned in the dishwasher.
Ensure proper pour by staff. Print and leave behind the bar as a reference for proper pour and basic troubleshooting.
Glasswasher Maintenance
Develop a nightly and weekly cleaning schedule for the glasswasher. Contact your supplier for details on what needs to be done. Ensure there is always a supply of cleaning solutions for the glasswasher and that no scale develops on the inside of the machine.
Bar Manager / Better Beer Champion
Select one person to manage the program and ensure that all of the resources are being used.
Print a copy of our draught manual and leave it in the office, behind the bar, or staff room as a quick reference.
Print off the email that you receive from your monthly audit and review the To Do section at your Manager's meeting. Some of our clients post the audit results on the outside of the walk-in so that staff and line cleaners can see the results.
You can also access the review from the Admin section of our site.